CounterPointe & 2015 Season - Save the dates!
April 10-12 & April 16-19
Brooklyn Ballet Presents CounterPointe on April 10-12, in collaboration with Norte Maar. The series, curated by Julia K. Gleich, features work by established and emerging women choreographers making new work on pointe.
The following weekend, April 16-19, is Brooklyn Ballet's 2015 Season. This year's annual season is a program of dances and collaborations including a revival by Founding Artistic Director Lynn Parkerson, new works by David Fernandez, Emily Oleson, and Matthew Powell, plus another sneak peek of The Brooklyn Nutcracker. With live music by Malcolm Parson & the Brooklyn Ballet String Band! 
Brooklyn Ballet Performs at Dance at Socrates!
Join Brooklyn Ballet's professional company and youth ensemble for a free outdoor performance in the lovely Socrates Sculpture Park. 
Saturday, August 23rd @ 4:00pm
Socrates Sculpture Park is located at 32-01 Vernon Boulevard in Long Island City, NY. Click here for performance details. 
Brooklyn Ballet Bessie Nomination!
Brooklyn Ballet's design team of Avram Finkelstein, Kathy Morganroth, and Jenny Mui of YMX by Yellowman; Patricia Forelle; and Nicholas and Sayaka Vermeer, Olivia Barr, and William Ward of NYC Resistor were nominated for a  2014 NY Dance and Performance (Bessie) Award for Outstanding Visual design for "Vectors, Marys, and Snow". Click on the video above to see an excerpt of the nominated performance. 

Vectors, Marys, and Snow
Photos by Lucas Chilczuk
The 30th Annual Bessie Awards will take place on Monday, October 20, 2014 at 8:00 p. m. at the legendary Apollo Theater in New York City. Tickets go on sale August 4.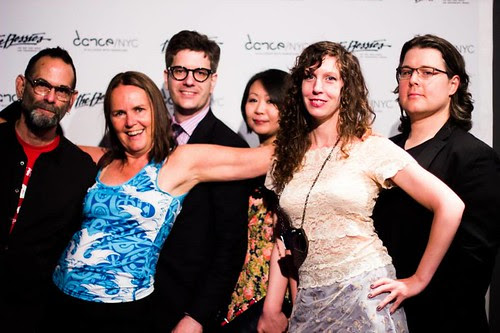 Bessie Dance Awards 2014 Press Conference
Photo by Anna Kuzmina/AK47
Brooklyn Ballet thanks the Bessie Committee for their recognition and congratulates the artists on this nomination! 
Two World Premieres by Lynn Parkerson
We open tomorrow! Did you get your tickets?
Each season we pride ourselves on beautiful dancers, live music, innovative collaborations, and world premiere dances. This year we're proud to present two world premieres by Artistic Director Lynn Parkerson:Three Marys & Quilt/One Night Stand. 
Last year's first look at Quilt, an improvisational, mathematically-inspired collaboration in choreography with Resident Choreographer Julia K. Gleich, was a huge hit. Live music fueled wonderful movement. Experiments in rehearsal generated great energy. And the dancers just wowed audiences.
This year, we have a different musician accompanying the piece live at every show and we can only expect that it will surprise and amaze us all - even the dancers performing!
Lynn's second world premiere of the season is Three Marys, a work that features three women dancers, who represent a Baroque Mary, a black Madonna and a spirit Mary. Inspired by a study of the resurgence of the worship of Mary in religious circles in the Baroque period, the dance uses traditional Baroque movement as well as more lyrical dance.
Three Marys is set to music by Nicola Matteis (b. 1650). Julius Abrahams, keyboard, Wen Yang, viola da gamba, and Jude Ziliak, violin, execute the score. More live music!!
Can't wait to share these premieres with you starting tomorrow night!
Collaborating with Resident Choreographer Julia K. Gleich
Julia K. Gleich was the obvious and best choice.
This is the first year since 2007 that Brooklyn Ballet has invited a guest artist to hold the position of Resident Choreographer for the Company's performance season.

Rehearsal of Julia's "The Solitude;" photo by Jason Andrew
Over 20 years of working together, Lynn Parkerson and Julia have developed a strong sense of mutual respect. Recent projects like last year's Quilt (and this year's Quilt/One Night Stand) and the creation of the CounterPointe series featuring women choreographers making work on pointe have only strengthened their connection.

Rehearsal of "The Solitude;" photo by Jason Andrew
Lynn's quest for instilling contemporary structures and ideals into the formal constraints of ballet led to last year's collaboration on Quilt, a largely improvised work using a mathematical concept of choreography introduced to the Company by Julia. Bringing improvisation into our ballet dancers' rehearsals was profoundly challenging and produced extraordinary results.
"Quilt" Work In Progress - Brooklyn Ballet 2013.03 - 02 from Brooklyn Ballet on Vimeo.
So it was only natural to welcome Julia and her new methods of working with ballet into our 2014 season, too. We can't wait to share her work onThe Solitude and her collaborative contributions to our world premiere ofQuilt/One Night Stand.
Opening night is this Thursday, April 3!
Learn more about Julia and her choreography at gleichdances.org
Thank You For Celebrating Elevate @ 10! and Supporting Dance Education in Public Schools
Last week we celebrated 10 years of working with students in Brooklyn's public schools. Elevate @ 10!, a fundraiser for Brooklyn Ballet's Scholarship Fund, included two special performances for excited parents, fans and dance aficionados. Thanks to all who attended for celebrating with us! We're so grateful to those who gave generously to our Elevate Scholarship Fund.
Elevate @ 10! was electric - just super fun! John Michael Abenanty and Naazir and Shaakir Muhammad's reprisal of Caridad Martinez's "3 Toreros," a trio they originally performed in 2007, was one of the celebration's many highlights. What a treat to see firsthand how much these young men have grown in their technique and performance. All the dances performed by our Elevate All-Stars, Company, Youth Ensemble and dance school students were phenomenal. They blew us all away!
After the amazing performances we had a delicious feast of pumpkin vegetable soup, jerk chicken, and rice & peas catered by the amazingFisherman's Dawta (407 Atlantic Ave). To work it all off, we danced to terrific reggae, hip hop, latin, disco and R&B tunes in the studio. It was a true celebration of the positive impact that dance can have.
Conservatory student M'Shiari Gonzales dancing it up with her dad
The event honored Corcoran Cares for their long-time support of Brooklyn Ballet's education programs, with a gift of appreciation presented by Artistic Director Lynn Parkerson and Board Chair Geri Armine-Klein.

Geri Armine-Klein with Lynn on stage at Saturday's performance
Liz Koch, Arts & Culture Specialist at the Brooklyn Borough President's Office, attended the Elevate @ 10! celebration and made the announcement that the Borough President, Marty Markowitz, had proclaimed Saturday, June 8, as Brooklyn Ballet Hall of Fame Day!
John Michael Abenanty inducted into the Brooklyn Ballet Hall of Fame
We couldn't be happier to announce that our first inductee is John Michael Abenanty! John Michael got his start in our Elevate program at PS 207, trained at Brooklyn Ballet and has now completed his pre-professional training at the prestigious Harid Conservatory in Florida. He just signed his first professional contract with Columbia Classical Ballet in South Carolina and was one of 20 students chosen internationally to participate in the highly competitive and renowned Ballet program at the School at Jacob's Pillow.

Naazir Muhammad with his All-Star medallion
We know John Michael is the first of many who will enter the professional ballet world with roots planted firmly in Brooklyn. And we honored seven more of our promising Elevate All-Stars that evening for their hard earned achievements, too! Thank you for helping us reach our $5,000 Kickstarter goal that made these All-Star shows a reality, so we could honor these young dancers.

Elevate and Brooklyn Ballet School instructor Meagan Brunke dancing with conservatory students after the performance
We're on our way to reaching our target of $30,000 in order to maintain our Elevate Scholarship program. We have $15,000 in contributions to the Fund so far - please continue to help us spread the word about our terrific public school program and the great benefit a scholarship provides for a young dancer.

Elevate Education Director Catherine Green with Elevate student Olivia Jervise (PS 312)
"Elevate certainly brings ballet to thousands of children who would not otherwise have access and among this wide pool of Brooklyn children there are those with extreme, even stunning aptitude for ballet. Without Elevate scholarships, these children would very likely never consider ballet. The program opens doors."
-Elevate Education Director Catherine Green
Roxana Vadia, Company Dancer J-Floats & All-Star Daniel Falkin 
It's been truly inspiring to work with these supremely talented young dancers, watching them move from discovery in the classroom, to professional performance experiences.
Thanks to your support of Brooklyn Ballet, we'll can continue to discover and educate many more talented and driven young artists budding in Brooklyn's Public Schools. We can't wait to meet them!
Elevate All-Stars: Naazir & Shaakir Muhammad
"When I'm dancing, I feel as if I can express myself without being judged. I can dance the way I'm feeling."
-Naazir Muhammad
"Lynn discovered us."
-Shaakir Muhammad
Brooklyn Ballet- Naazir & Shaakir Muhammad from Ben Holbrook on Vimeo.
It wasn't love at first sight for Elevate All-Star Naazir… Before he saw the men's variations at Brooklyn Ballet's grade school performance, Naazir wasn't convinced he would want to get involved in dance. Once the men were jumping, turning and lifting the women, he was impressed and wanted to try it for himself.
Naazir and Shaakir trained at Brooklyn Ballet School on  scholarship and danced in our Youth Ensemble for six years before joining American Ballet Theatre's pre-professional program at JKO School. Now Naazir and Shaakir are looking forward to a long career on stage, working hard for their dream of principal roles in New York City or beyond.
Join us on June 5th for a performance by all of our Elevate All-Stars and a Jamaican dinner by Fisherman's Dawta. Brooklyn Ballet dance party to follow!
Or help us celebrate our 10th anniversary with a gift to support these young dancers!
We still need to raise $2,273 for our June performances! Any size donation brings us closer to our goal, so visit our Kickstarter and donate what you can today!
And don't forget to share our campaign on Facebook, Twitter and forward this email. Let's spread the word about Elevate!
Thank You for Supporting Brooklyn Ballet's 2013 Season Performances
Thank you from all of us at Brooklyn Ballet!
Brooklyn Ballet's 2013 season In 4D was a great success! We wish to extend tremendous thanks to our incredible dancers, esteemed collaborators, wonderful production crew, and our amazing supporters! We are so grateful for the support.
photo by William Ward
In case you missed our remarkable press or weren't able to attend a performance, click on these links to learn more about the show.
Read all about it:
The Dance Enthusiast
DNA Info/NY Neighborhood News
Norte Maar
Brooklyn Daily/Go Brooklyn
CounterPointe Performance: A Great Success!
Norte Maar, in collaboration with Brooklyn Ballet, presented CounterPointe, a new performance series featuring emerging and established women choreographers making new work on pointe.
The series ran three nights at The Actors Fund Arts Center (160 Schermerhorn Street, Brooklyn, NY), Fri, Sept 28 + Sat, Sept 29 at 7:30pm and Sun, Sept 30 at 4pm. The evening featured new works by Lynn Parkerson, Julia K. Gleich, and Marie Renee Bennett with additional showings by Eve Chan, Emily Bufferd, Susan Jaffe, and Eryn Renee Young. 
With special appearences by the Brooklyn Ballet Youth Ensemble and a Q & A discussion with prominent dance scholar Claudia Jeschke. 
Brooklyn Ballet Students Participate ABT Summer Program
Six talented Brooklyn Ballet students were selected for American Ballet Theatre's Young Dancer Summer Workshop, which ran from July 30th to August 10th.
The participating students were Penelope Birnbaum, Bhajhan Williams, Zoreika Ollivierre, Chantel St. Fleur, Olivia Riess, and Rachel Tranter. The classes, which were held from 9:30am to 3:30pm Monday through Friday, focused on "building a solid foundation in ballet technique and educating younger dancers about related topics in the world of dance." On August 10th at ABT Studios in Manhattan, parents watched the students in a final show which included a ballet technique class, boys variation and choreography. 
We are very proud to see how Brooklyn Ballet students have grown with the program, made possible through our partnership with ABT. Bravo!
From Baroque to Hip Hop: First home season a success
Ballet's fate has recently become an issue of popular debate thanks to Jennifer Homans' Apollo's Angels: A History of Ballet (November 2010). The author's bold assertion that ballet is dying is a call to arms for choreographers like Lynn Parkerson, who has been ready and willing to answer for years. In line with this current preoccupation with ballet history and Homans' dire diagnosis, Lynn offered a curatorial nod to ballet's past conditions and current vivacity in March.
From Baroque to Hip Hop: Brooklyn Ballet 2011 Season from Lynn Parkerson on Vimeo.
Brooklyn Ballet celebrated its first home season, From Baroque to Hip Hop, with a timeline of dances ranging from 1700 to today, commemorating ballet's roots and defining moments as well as showcasing possible modes of progression. (Homans was the guest of honor at the opening gala performance, signing books and conversing with audience members.)
Roslyn Sulcas of The New York Times applauded Lynn's programming, drawing attention to its "notable reconstruction of 18th-century and 19th-century dances." A performance of Lynn and Thomas Baird's "La Folia," which sets Baroque style dance by Raoul Feuillet beside contemporary ballet by Lynn, highlighted the roots of balletic language and playfully demonstrated the stark differences between today's movement and its ancestral derivation.
Collaborating artists and dance scholars, Claudia Jeschke and Robert Atwood presented "The Justamant Suite," three short but intricate works choreographed by Henri Justamant, a French ballet master heretofore unknown among historians, whose work was uncovered at the Theatersammlung in Cologne, the Bibliotheque Opera de Paris and the Dance Collection of the New York Public Library. Before Brooklyn Ballet's performance last month, these works had not been presented in 150 years.
Thanks to the George Balanchine Trust, Brooklyn Ballet was also able to include Balanchine's "The Four Temperaments (Themes I-III)" in the season's concerts. This seminal 1946 work encouraged audiences to note the significant role Balanchine played in shaping contemporary performance.
Last, and most current, Lynn presented the world premiere of "Close to You," which was shown as a work-in-progress at last spring's First Look series at The Schermerhorn. The intertwining of street dance and ballet contemporizes the genre and validates its position in the present landscape of contemporary art, with its penchant for defying classification by entertaining diverse influences.
You Can't Hurry Love. Or Dance.
"For me it's always an opportunity to keep exploring to keep my interest piqued." – Lynn Parkerson
Lynn's latest choreographic journey involves multiple dance disciplines and techniques for generating movement. Kalle Laar, her friend and co-conspirator in creating art, expresses his thoughts on how they started working on their current project:
"We bring together the different skills that we have — dance, poetry, music, sound art — and see what comes out of it. We decided to collaborate without necessarily having an idea for the piece. We just know we like to work together. At first, that's enough, and we work without any clear direction. Direction evolves very quickly and we come to a few points of interest. Lynn's interest in Baroque music, for example. The idea of game came up through sign language and thinking of signs used in sports – then we're connecting this type of popularity with our project… These become reference points."
Kalle is interested in the juxtaposition of old and new. He finds Lynn's work with the duet engaging because of its seemingly inherent quest for the qualities shared between its multiple disciplines.
"What I liked from the very beginning was the idea of the very traditional represented by Baroque music or dancing en pointe with the very new. I like this clash — not trying to clash these things but instead seeing what the common ground can be. Maybe we can come up with the common ground."
Because Kalle works and lives in Munich and Lynn is making strides on the project here in Brooklyn, the collaborative process will be lengthy and happen in parts.
"We don't want to do just another piece in the usual way — make it and then it's finished. We decided to conceive it as a process where we're creating content in a year or longer; sending bits and pieces back and forth, whenever we can we get together."
Kalle visited Brooklyn to attend the Mixed Movement session hosted at Brooklyn Ballet in mid-December and Lynn will be in Munich in mid-February. She wants to find a way to bring the duet with her to Germany, either by incorporating it in a performance by projection or some other type of showing. She plans to showcase her work in "Raw Barre," Brooklyn Ballet's first home season series of performances in April, but she's not set on that showing being the project's final phase. She suggests that this duet may grow in stages, referencing the late Merce Cunningham's inclination to number things – Event 1, Event 2, etc. April's performance may be World Premiere, Phase 1, indicating that it exists in time and place without it needing to be more than that.
Kalle agrees with this approach for this particular work. Lynn's improvised solo at last September's Mixed Movement was a complete dance on its own. The last few showings of the progressing duet were also complete in their own way. 
"I have nothing against a finished product at the end," Kalle says.
But this collaborative team doesn't want to rush to a result and miss out on the magic of the process itself.
Inspiration in Improvisation
Last September, Lynn Parkerson attended a Mixed Movement event at St. Mark's Church at the suggestion of some of her dancers. Swept away with the spirit of the evening's dancing, Lynn found herself performing an improvised solo. Check it out here:
Inspired by the gestural movement and multiple dance genres that arose in her improvisation, Lynn and long-time collaborator Kalle Laar decided to join forces again to create a new dance. Kalle produces art in many mediums but primarily focuses on sound installations created by his husband and wife team "Art or Accident" based out of Munich, Germany.
Lynn and Kalle have collaborated on projects before — one piece they conceived together was titled "Nervous," based on an epic poem written by a mutual friend Jeffrey Gustavson. The work featured three ballet dancers and a couple practicing contact improvisation while Gustavson sat in the middle of the stage. This work fed Kalle and Lynn's fascination with finding connections between different movement styles.
Lynn, in particular, is moved to create based on her discovery of these kinds of connections. She has been working with street dancers since 2005, investigating how the improvisatory practice of breakdance, pop and lock and other street styles can coincide with the more structured format of ballet. Her current work features popper Michael Fields and ballet dancer Kerry Shea. One of the discrepancies she's found in choreographing using multiple mediums is the way in which her dancers generate movement.
Lynn has grown comfortable in the roles of director, teacher and choreographer, but recently rediscovered the virtues of performing. Finding it easy to slip back into the spotlight in the impulsive atmosphere of September's Mixed Movement, she remembered that the performance space can act as a location for creation.
The rehearsal studio is more foreign to the street performer than it is the ballerina, so to work with both types of artists, Lynn finds herself working against the norm to generate a work in a way that suits (and challenges!) each of her dancers' needs. Molding this duet both in rehearsals in the studio at Schermerhorn House, and more spontaneously, within public performance, Lynn is facing new obstacles and greeting new revelations with this project.
The choreography generated thus far was well-received at multiple showings last fall and continues to develop rapidly with the introduction of new ideas in music and sound-scores, cross-discipline dancing, performance quality and more.
So the performance space is becoming the place where the composition cements itself. A lot of detail gets sorted out in that tension involved in being in front of an audience. With only landmarks, not finished products, the dancers can let the audience in and let the moment lead to their next choices.
Tag along with Lynn, Kalle, Mike and Kerry as the work progresses from improvised solo to … well, who knows? Keep up with us at the Brooklyn Ballet blog!