Brooklyn Ballet to perform at Kings Theatre
"Return of the Kings: A Celebration"
Join us for a celebratory performance at King's Theatre on Monday April 27 at 8pm to re-introduce this historic landmark to Brooklyn. Brooklyn Ballet will peform excerpts from "The Brooklyn Nutcracker" as well as a short preview of pieces from our latest season "Roots & New Ground". Other groups set to perform include Brooklyn Youth Chorus, TriBeCaStan, and Casym Steel Orchestra. This performance is FREE but you must RSVP through ticketmaster to claim your seat. Details for this performance are below. We hope to see you there! 
Monday, April 27th at 8pm
Kings Theatre
1027 Flatbush Ave Brooklyn, NY 11226
On Set of ABC's "Forever"
Brooklyn Ballet Company Dancers First National Network TV Appearance!
We love a good TV drama so when we got the call and were asked to participate in the taping of ABC's tv series, "Forever", we were extremely excited for the opportunity! Brooklyn Ballet company dancers taped a ballet scene with esteemed ballerina, Irina Dvorovenko, for the series two weeks ago. Forever is a series about Doctor Henry Morgan (Ioan Gruffudd), New York City's star medical examiner who studies the dead to solve criminal cases to solve the mystery that has eluded him for 200 years—the answer to his own inexplicable immortality. The episode we're featured in was directed by John Kretchmer and is produced by Warner Bros. Television with executive producers, Matt Miller (Chuck, Las Vegas), Dan Lin (Sherlock Holmes, Gangster Squad) and Jennifer Gwartz (Veronica Mars, Cupid,  Party Down). Forever stars Ioan Gruffurd, Alana De La Garza, Joel David Moore, Donnie Keshawarz, Lorraine Toussaint and Judd Hirsch. This episode will air on Tuesday, April 7th 10pm EST but for now enjoy our behind the scene footage on set. 
From top of photos: BB Dancers with Forever's star Ioan Gruffurd, BB Dancers with highly respected ballerina, Irina Dvorovenko.
Spring Forward with "Roots & New Ground"
Brooklyn Ballet Spring Season
It's almost the end of our winter blues in Brooklyn as the sun begins to melt the snow and spring slowly thrives forward, giving us a new season. It's also the best part of year for us because it's the most creative time to collaborate with different artists and prepare for our spring production, "Roots & New Ground". We're very excited to showcase new works by David Fernandez, Michael "Big Mike" Fields, Emily Oleson, Matthew Powell, and a revival by Artistic Director Lynn Parkerson. We are also collaborating with composer and cellist Malcolm Parson on a few pieces he's written for the season.
Rehearsal began in the middle of February, so we're working out each piece and expanding more ideas as the production progresses. We look forward to presenting "Roots & New Ground" to our audience and can't wait to meet you all April 16-19 at The Actor's Fund Arts Center. To purchase tickets, click here.  
Check out some rehearsal photos below: 
Brooklyn Ballet in Popular Science!
Click here to read all about Brooklyn Ballet's dance and technology projects in Popular Science Magazine. 
Wild, Wonderful West Virginia!
Brooklyn Ballet's Residency at Davis & Elkins College
Brooklyn Ballet travelled to West Virginia from November 1-3, 2014 to perform and teach master classes. 
The performance featured special guest dancers Emily Oleson (Professor of Dance at Davis & Elkins), Matthew Olwell, and members of the Appalachian Ensemble String Band, alongside excerpts of Brooklyn Ballet signature dance pieces such as "Spiders Cooks and Mood Swings", and "The Brooklyn Nutcracker".  There were over 450 audience members in attendance. 
Brooklyn Ballet company members taught four master classes in ballet and hip-hop to 87 students, and had a wonderful time touring D & E's gorgeous campus. A big thank you to Davis & Elkins for hosting Brooklyn Ballet's residency! 
CounterPointe & 2015 Season - Save the dates!
April 10-12 & April 16-19
Brooklyn Ballet Presents CounterPointe on April 10-12, in collaboration with Norte Maar. The series, curated by Julia K. Gleich, features work by established and emerging women choreographers making new work on pointe.
The following weekend, April 16-19, is Brooklyn Ballet's 2015 Season. This year's annual season is a program of dances and collaborations including a revival by Founding Artistic Director Lynn Parkerson, new works by David Fernandez, Emily Oleson, and Matthew Powell, plus another sneak peek of The Brooklyn Nutcracker. With live music by Malcolm Parson & the Brooklyn Ballet String Band! 
Brooklyn Ballet Performs at Dance at Socrates!
Join Brooklyn Ballet's professional company and youth ensemble for a free outdoor performance in the lovely Socrates Sculpture Park. 
Saturday, August 23rd @ 4:00pm
Socrates Sculpture Park is located at 32-01 Vernon Boulevard in Long Island City, NY. Click here for performance details. 
Brooklyn Ballet Bessie Nomination!
Brooklyn Ballet's design team of Avram Finkelstein, Kathy Morganroth, and Jenny Mui of YMX by Yellowman; Patricia Forelle; and Nicholas and Sayaka Vermeer, Olivia Barr, and William Ward of NYC Resistor were nominated for a  2014 NY Dance and Performance (Bessie) Award for Outstanding Visual design for "Vectors, Marys, and Snow". Click on the video above to see an excerpt of the nominated performance. 

Vectors, Marys, and Snow
Photos by Lucas Chilczuk
The 30th Annual Bessie Awards will take place on Monday, October 20, 2014 at 8:00 p. m. at the legendary Apollo Theater in New York City. Tickets go on sale August 4.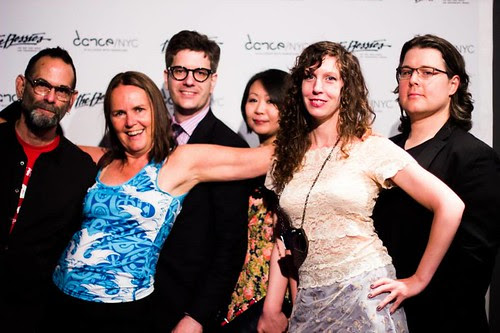 Bessie Dance Awards 2014 Press Conference
Photo by Anna Kuzmina/AK47
Brooklyn Ballet thanks the Bessie Committee for their recognition and congratulates the artists on this nomination! 
We loved opening night, and we're equally excited about our first Free Beer Friday show!!
Audience members at tonight's performance (and next Friday, April 11) will each get a complimentary drink with their ticket. We have Beck's Sapphire, Bud Light and Stella Artois Cider on hand - take your drink with you into the theater and enjoy! 
Brooklyn Ballet thanks Anheuser-Busch for their generosity in sponsoring our Free Beer Fridays this season.
Two World Premieres by Lynn Parkerson
We open tomorrow! Did you get your tickets?
Each season we pride ourselves on beautiful dancers, live music, innovative collaborations, and world premiere dances. This year we're proud to present two world premieres by Artistic Director Lynn Parkerson:Three Marys & Quilt/One Night Stand. 
Last year's first look at Quilt, an improvisational, mathematically-inspired collaboration in choreography with Resident Choreographer Julia K. Gleich, was a huge hit. Live music fueled wonderful movement. Experiments in rehearsal generated great energy. And the dancers just wowed audiences.
This year, we have a different musician accompanying the piece live at every show and we can only expect that it will surprise and amaze us all - even the dancers performing!
Lynn's second world premiere of the season is Three Marys, a work that features three women dancers, who represent a Baroque Mary, a black Madonna and a spirit Mary. Inspired by a study of the resurgence of the worship of Mary in religious circles in the Baroque period, the dance uses traditional Baroque movement as well as more lyrical dance.
Three Marys is set to music by Nicola Matteis (b. 1650). Julius Abrahams, keyboard, Wen Yang, viola da gamba, and Jude Ziliak, violin, execute the score. More live music!!
Can't wait to share these premieres with you starting tomorrow night!
Collaborating with Resident Choreographer Julia K. Gleich
Rehearsals of "The Solitude;" by Jason Andrew
Julia K. Gleich was the obvious and best choice.
This is the first year since 2007 that Brooklyn Ballet has invited a guest artist to hold the position of Resident Choreographer for the Company's performance season.
Over 20 years of working together, Lynn Parkerson and Julia have developed a strong sense of mutual respect. Recent projects like last year's Quilt (and this year's Quilt/One Night Stand) and the creation of the CounterPointe series featuring women choreographers making work on pointe have only strengthened their connection.
Lynn's quest for instilling contemporary structures and ideals into the formal constraints of ballet led to last year's collaboration on Quilt, a largely improvised work using a mathematical concept of choreography introduced to the Company by Julia. Bringing improvisation into our ballet dancers' rehearsals was profoundly challenging and produced extraordinary results.
"Quilt" Work In Progress - Brooklyn Ballet 2013.03 - 02 from Brooklyn Ballet on Vimeo.
So it was only natural to welcome Julia and her new methods of working with ballet into our 2014 season, too. We can't wait to share her work onThe Solitude and her collaborative contributions to our world premiere ofQuilt/One Night Stand.
Opening night is this Thursday, April 3!
Learn more about Julia and her choreography at gleichdances.org
A Different Musician for Every Show: Quilt/One Night Stand
Brooklyn Ballet has always made it a point to collaborate with great musicians and provide live music in performance as often as we can.
We are overjoyed that this year we're collaborating with a new artist at every performance of our world premiere of Quilt/One Night Stand!
Audiences and dancers will both be hearing the music for the first time during each show. World-class musicians of many styles and multiple talents span the season's performances - from vocalist Shelley Hirsch to trombonist Jen Baker.
If you're a lover of the empty slate, unpredictability, and the emerging unexpected, Quilt/One Night Stand will satisfy. 
Click the photos below to learn more about each of these fantastic musicians. Then be sure to grab your tickets!
Shelley Hirsch, vocalist, April 4

Andrei Matorin on April 5

Andrew Drury on April 11

And Opening Night, Thursday, April 3, Julius Abrahams plays excerpts from Sonatas and Interludes by John Cage.
Meet the Company: New Brooklyn Ballet Dancer Izabela Szylinska
Name: Izabela Szylinska
Age: 24
Neighborhood you live in: Bushwick
Q: Tell me a bit more about your background in ballet.
A: I started my professional ballet training at the age of 10. I attended the Polish National Ballet School in Warsaw. The education takes 9 years and finishes with a diploma. Besides ballet we also studied contemporary, modern, character dances and many others. The school was very rigorous but I was lucky to finish it with distinction.
Q: How did you learn about Brooklyn Ballet? And what attracted you to audition for the company?
A: Brooklyn Ballet was the place of my first show in New York. I had the pleasure to meet Julia Gleich and perform her work in the CounterPointe project in 2012 and 2013. 
Q: Which of the dances for this season's performances are you most excited about? Why?
A: I'm excited to perform The Solitude by Julia Gleich again with a slightly different group of dancers. It's fascinating for me to perform the same piece but with a different cast. It brings new energy and sometimes it may change the character.
Q: Why is ballet/dance important to you?
A: It always was a big part of my life, it was always around me…My mom is a choreographer and since I was a small kid I've spent a lot of time at the theater in Warsaw, Poland. At some point it felt like my second home!
For me it's a way to express your feelings, emotions, strengths, and technically, ballet is something where you can always improve. 
Q: What is your favorite activity outside of dance?
A: Whenever I'm not dancing, I still like to do things connected with art. I love to see performances, shows, plays. I used to do that all the time when I was in Europe. New York is an amazing place to be so there is always something interesting to do. So I guess I just like to find new things in this city.
Q: Where's your favorite place to hang out in Brooklyn?
A: There are so many places! I love Carroll Gardens - I could walk around Smith and Court streets all day. I'm also a huge fun of the Bedford area - I often find myself sitting at the pier with a warm cup of coffee from Toby's Estate. It's a great spot to experience peace, watching a nice view of Manhattan.
Top photo by Marcin Szro; bottom photo by David Toquica Olave
Hacking The Nutcracker: Our Motion Sensor Tutus in Action
We're still hard at work on the technology components of our Brooklyn Nutcracker costumes, premiering in the Snow scene at our 2014 season (April 3-13).
Check out our prototype all lit up in a trial run after rehearsal, modeled by Brooklyn Ballet Youth Ensemble dancer Alexia Chan:
Motion Sensor Tutus from Brooklyn Ballet on Vimeo.
We can't wait to unveil these tutus and other costume elements on stage in just a few short weeks!
Please help us make this tech dream a reality by sharing our Kickstarter project with all of your friends on social media and by email. Only 15 days left to raise $7,950 and meet our $10,000 goal!
Thanks for your enthusiasm and support!
video footage by Bill Ward, NYC Resistor
In rehearsal: Vectors, Marys, and Snow 2014
We are busy preparing for our 2014 season, and our dancers look amazing!
Here's a peek behind the scenes of rehearsals for Snow from The Brooklyn Nutcracker, and more.
Don't forget to donate to our Kickstarter to help us get Snow to the stage. There are great rewards, including the opportunity to join us in April and see everything in performance!
Kickstart our Tutus & Technology Project!
In its mission to Brooklyn-ize The Nutcracker, a holiday classic, Brooklyn Ballet brings in street and modern dancers, infuses African dance styles and sets its multicultural, intergenerational cast on Flatbush Avenue. Building The Brooklyn Nutcracker in installments allows Lynn Parkerson to explore new innovations and collaborate with new artistic partners during Brooklyn Ballet's home performance season.
This season's focus is the iconic Snow scene and Drosselmeyer 1.0, and the talented collaborators are popping artist Mike "Supreme" Fields, costume designers YMX by Yellowman and Nick Vermeer and Bill Ward of hacker collective NYC Resistor. In a true wonderland of possibilities, the collaborators have worked together to dream and design a techno tutu, a motion sensor skirt that mimics the pattern of falling snow with LED lights as each performer dances through the scene. 
We need your help to raise $10,000 for the construction and realization of these amazing costumes! Donate what you can today - we need everyone to pitch in to make our goal, and we're counting on you!!
Thanks for all that you do for Brooklyn Ballet!
Meet the Company: New Brooklyn Ballet Dancer Paunika Jones
Name: Paunika Jones
Age: 35
Neighborhood you live in: Washington Heights
Q: Where did you start your dance training? Tell me a bit more about your background in ballet.
A: I began at the age of 2 with basic fundamentals of movement and expression: What is up, down, left, right. Display what is happy, sad and things like how to be a butterfly and what color would my wings be.
Q: How did you learn about Brooklyn Ballet? And what attracted you to audition for the company?
A: I have had a few friends who have worked with Brooklyn Ballet over the years. I also breezed through sometime ago, in the Nutcracker with a friend. I was interested in Brooklyn Ballet because of the Company's diversity not only in terms of race, but artistically as well.
Q: Why is ballet/dance important to you?
A: It has always been something I not only feel very passionate about, but I find it is a very powerful vehicle of expression and communication. Which, I believe is highly important, it does not matter what the subject or walk of life! Ballet and dance is part of my every being and has been for so long. To not do it, would be to not live.
Q: What is your favorite activity outside of dance?
A: I find it hard to pick just one activity. I enjoy swimming, Gyrokinesis, writing and laughing as much as possible.
Meet the Company: New Brooklyn Ballet Dancer Elisabet Rubio
Brooklyn Ballet loves broadening the work of the Company with new dancers with new strengths and experiences each season. We enjoy getting to know our newest recruits in rehearsals, and we thought you'd like an introduction to them, too.
Stay tuned for a series of introductions to our newest faces that will grace the stage this April!
Name: Elisabet Rubio
Age: 20
Neighborhood: Inwood, Manhattan
Q: Tell me a bit more about your background in ballet.
A: I started my dance training in Havana, Cuba where I graduated from The Cuban National Ballet School. I have interpreted different artistic roles within the classic repertoire and worked with other Cuban and foreign choreographers.
I was part of the cast of Ballet Laura Alonso (Center of Pro Dance of Cuba) where I developed as a professional ballerina and interpreted roles in Dracula, The Nutcrackers, Les Sylphides and Yarini.
During the Cuballet of Summer 2012, I took part in Sleeping Beauty, and right now I am a student at The Ballet Hispanico School of Dance.
Q: How did you learn about Brooklyn Ballet? And what attracted you to audition for the company?
A: I heard about the Brooklyn Ballet from Caridad Martinez, former Brooklyn Ballet Conservatory director. It was a great opportunity to do what I love the most - DANCE!
Q: Which of the dances for this season's performances are you most excited about? Why?
A: Snow is one of my favorite dances this season because of the new version that incorporates very original attire - motion sensor tutus.
Q: Why is ballet/dance important to you?
A: When I dance I have my own style. I feel different, I can be who I am. When I dance all my problems and worries go away. Dance is my passion and a great sensation. Dance is my life!
Q: Where's your favorite place to hang out in Brooklyn?
A: The Brooklyn Bridge
Brooklyn Ballet announces 2014 Performance Season: Vectors, Marys, and Snow
Brooklyn Ballet 2014 Season: Vectors, Marys, and Snow An eclectic mix of dance, live music and collaboration
April 3, 4, 5, 11 & 12 at 8pm
April 6 & 13 at 4pm
at The Actors Fund Arts Center
Brooklyn Ballet has much in store for its 2014 performance season at home in The Actors Fund Arts Center, April 3-6 & 11-13. A special opening night reception before the show, free beer Fridays where your first drink's on us, and children's matinees each Sunday to introduce our youngest audience members to this year's explorations in ballet and choreography. 
Founding Artistic Director & Choreographer Lynn Parkerson, along with Resident Choreographer Julia K. Gleich, present new works, improvisational scores, and the latest excerpt from the in-progress Brooklyn Nutcracker - motion-sensored tutus, here we come! 
Exciting collaborations with the returning NYC Resistor hacker collective and YMX by Yellowman will provide new technological elements to the Nutcracker snow scene you know and love, and we have a full crew of talented musicians on hand to perform live music each performance.
"Quilt" Work In Progress - Brooklyn Ballet 2013.03 - 02 from Brooklyn Ballet on Vimeo.
Dancers will team up with a different musician each show to perform Quilt/One Night Stand to new music. Musicians include Julius Abrahams, Shelley Hirsch, Andrei Matorin, Baba Israel, Andrew Drury, Russ Lossing, Jen Baker, and Ranjit Bhatnagar.
The program also includes 3 Marys by Lynn Parkerson set to music by Nicola Matteis (b.1650) performed live by Julius Abrahams, Jude Ziliak and Wen Yang. Resident Choreographer Julia K. Gleich presents The Solitude, to music by Malcolm Parson played on viola by Josh Henderson.
Stay tuned for introductions to our newest members the company, videos and photos from rehearsals, and more announcements about our upcoming events! 
Can't make it to our theater performances? See us perform some of this season's works at St. Francis College on April 14 at 12:30pm.
Photo: Lois Greenfield
Meet the Company: New Brooklyn Ballet Dancer Oshi Wanigasekera
Name: Oshini Wanigasekera
Age: 26
Neighborhood: Woodside, NY
Q: Where did you start your dance training? 
A: School of Alberta Ballet in Canada
Q: How did you learn about Brooklyn Ballet? And what attracted you to audition for the company?
A: Several of my friends danced for Brooklyn Ballet and I loved hearing about what they were performing.
Q: Which of the dances for this season's performances are you most excited about? Why?
A: I love structured improvisation, and Quilt/One Night Stand is great to just let that all out.
Q: Why is ballet/dance important to you?
A: I'm a really quiet person. Dance is my way of talking. The ballet world is something of a bubble with few people of minority. Since ballet is something that I love, I think it's important to carve a new image of the ballerina.
Q: What is your favorite activity outside of dance?
A: Painting
Q: Where's your favorite place to hang out in Brooklyn?
A: Greenpoint
  
Photo by Rachel Neville 
Pages