Brooklyn Ballet Brings Back 'Brooklyn's 3 Billys' in Elevate All Star Performance, June 5 & 8, 2013
Brooklyn Ballet welcomes back some of the dance world's budding stars during a celebratory performance by young alum who came to ballet through Brooklyn Ballet's Elevate program for public schools.
Naazir and Shaakir Muhammad & John Michael Abenanty
formerly of Brooklyn Ballet; photo by Raw Material Photography
Join us at The Actors Fund Arts Center!
Wednesday, June 5, 7pm
Saturday, June 8, 2pm
Brooklyn Ballet Company, Youth Ensemble and students from the School will also perform.
All Grown Up
We'll be sharing a new interview each week to introduce you to our Elevate All Stars, five dancers who were discovered, recruited and trained by Brooklyn Ballet before acceptance to prestigious pre-professional ballet programs across the country - here in New York at American Ballet Theatre's JKO School and Ballet Hispanico and in Florida's Harid Conservatory.
But first, a flashback to 2007, when All Stars John Michael (PS 207 Marine Park) and Naazir & Shaakir (PS 251 Flatlands), performed "3 Toreros" choreographed by Caridad Martinez. 
Just wait til you see how these boys can move now!
About Elevate
Brooklyn Ballet has reached more than 11,000 children in eight of Brooklyn's public schools through Elevate, its innovative educational program that infuses ballet training in school curriculum.
Support Elevate today by joining us at our benefit performance June 5! 
Thank You for Supporting Brooklyn Ballet's 2013 Season Performances
Thank you from all of us at Brooklyn Ballet!
Brooklyn Ballet's 2013 season In 4D was a great success! We wish to extend tremendous thanks to our incredible dancers, esteemed collaborators, wonderful production crew, and our amazing supporters! We are so grateful for the support.
In case you missed our remarkable press or weren't able to attend a performance, click on these links to learn more about the show.
Read all about it:
The Dance Enthusiast
DNA Info/NY Neighborhood News
Norte Maar
Brooklyn Daily/Go Brooklyn
Brooklyn Ballet In 4D: Opening Weekend of the 2013 Season
Brooklyn Ballet opened the 2013 Season: In 4D to excited audiences last weekend and looks forward to three more performances this Friday, Saturday and Sunday. Buy your tickets now to see new choreography by Artistic Director Lynn Parkerson and collaborators Julia K. Gleich and Mike "Supreme" Fields, with brilliant design and music by NYC Resistor, Gil Morgenstern and Julius Abrahams.
Brooklyn Ballet in rehearsal with Gil Morgenstern
Brooklyn Ballet is absolutely ecstatic to be performing with the fabulousGil Morgenstern again this year. A superb violinist and director of Reflections Series International, Gil has collaborated with Lynn Parkerson on all our season performances in the Actors Fund Arts Center. Lynn and Gil believe live music truly invigorates dance in performance, and our audiences have wholeheartedly agreed.
The musician extraordinaire took a few moments to answer some of our questions about his musical choices for this season's new mixed movement work-in-progress, Quilt. And we stealthily filmed some of last week's rehearsal to give you a peek and a listen at how the dance is shaping up.
Join us this week for the opening of our 2013 season!
Q: When were you first introduced to dance? And to Brooklyn Ballet?
A: I guess I was first introduced to dance in a "formal" way when I was a student at Juilliard, and I had a few friends in the New York City Ballet. I was privileged to attend quite a few performances and even snuck backstage sometimes, although thankfully, Mr. B never found out. Over the years my interest in dance grew to the point where I formed a small experimental company with the wonderful Paul Taylor dancer Mary Cochran.
I met Lynn about 10 or 12 years ago when she contacted me at the suggestion of a mutual friend at the 92nd Street Y. Lynn invited me to perform a work of hers with her company and we've been friends and collaborators ever since.
Q: What captured your attention about the art form? 
A: Well I suppose most people are fascinated about art forms they know they could just never do themselves…
Q: The music for Quilt includes works by composers Johann Sebastian Bach and Vytautas Barkauskas. Lynn says the Bach & Barkauskas selections are fascinatingly similar. Can you tell us more about Bach's influence on the contemporary composer?
A: Bach's Six Sonatas and Partitas are really the gold standard of solo instrumental writing; no composer since can write for solo violin without looking over his or her shoulder back to Bach. The Barkauskas work is a clear homage to Bach: the work is titled Partita and the movements all have Baroque names. Additionally, as in Bach's Partitas, Barkauskas incorporates contemporary dance forms into his music.
Q: What do you hope to illuminate by placing these pieces of music side-by-side?
A: Although all these pieces are written with different musical vocabularies, I think they fit in perfectly with Lynn's vision for Brooklyn Ballet, including the reinterpretation of traditions in a contemporary setting and the combination of seemingly unrelated works.
Q: Brooklyn Ballet's audiences love the inclusion of live music in our performances. Why do you think live music changes the way people view choreography? 
A: I believe the audience begins to better understand the relationship between music and dance. In a way, it focuses their attention on the music through live performance; something recorded music obviously cannot achieve.
Opening night is this THURSDAY, FEBRUARY 28! Purchase tickets for our two week performance season here.
Brooklyn Ballet Rehearsing "Spiders, Cooks & Mood Swings"
Spiders, Cooks and Mood Swings was presented during Brooklyn Ballet's 10th anniversary season last year as a work-in-progress. This year our hip hop, modern and ballet dancers all slip back into their characters to present the world premiere. It's great to see everyone back in rehearsal for this dance - such a large and energetic cast!
Meet the Company: New Brooklyn Ballet Dancer Duane Gosa
Brooklyn Ballet welcomed several new company members this year. It's been a blast learning about them in rehearsal—who they are, how they move, why they dance and more. We thought our readers would like a chance to get to know them, too.
Name: Duane Gosa
Age: 27
Neighborhood: Bushwick/Bed Stuy
Q: Where did you start your dance training?
A: I started dance at a performing arts program that was offered to upperclassmen at my high school in Ohio. After graduating, I continued to study ballet more intensely at the University of Akron.
Q: How did you learn about Brooklyn Ballet? And what attracted you to audition for the company?
A: I first heard of BB through a fellow dancer in the company. We had partnered together for a contemporary Nutcracker and she encouraged me to audition for a project that was happening last fall. I was mostly attracted to the blend of classical technique with more contemporary styles of moving. Recently, I've worked more with contemporary movement so I appreciate and am excited for the chance to fiercely reinvestigate ballet technique on my body.
Q: What do you find most challenging about rehearsals so far?
A: To be honest, it's wearing ballet slippers for so long. While I understand that I am not nearly as distressed regarding footwear in comparison to the women on pointe, I haven't worn ballet shoes this much since my school days. It's great! I am happy for the challenge, and I can feel my feet getting much stronger.
Duane partnering Gabriela in rehearsal for BB's "Tracing Back"
Q: Which of the dances for this season's performances are you most excited about?
A: I'm most excited about Tracing Back. I think the production of this piece will be particularly interesting. There will be an added component that uses live video of the choreography and reconfigures the moving image into a digital illustration that will be projected during the piece. This added dimension is a cool and exciting way to look at the idea of technology-enhanced performance.
Q: Why is ballet/dance important to you?
A: Because it feels great! I have been physically active my whole life. I was an athlete and a musician while growing up so when I discovered dance it seemed to fit perfectly on my body. It's the closest way I can get to actually becoming the music.
Q: What is your favorite activity outside of dance?
A: Music has always been a major interest of mine. I've studied music for many years, so listening to music is my favorite pastime. I love finding new music, especially old music that's new to me. 
Right now I'm listening to a lot of classic R&B/Soul music and Indie Electronic. The artists I play most on repeat are the band Them, Sam Cooke, Electric Guest and Azealia Banks.
Q: Where's your favorite place to hang out in Brooklyn?
A: It really depends on the time of year. Currently, my favorite place to be is warm in my home, but when the weather is fair DUMBO is a very beautiful place to hang out. The Brooklyn Bridge Park is definitely my spot in summer.
Rehearsing Brooklyn Ballet's New Digital Collaboration: "Tracing Back"
Rehearsals with our ballet dancers for "Tracing Back" have started in earnest. Last week, Gabriela Galvez Espana, Duane Gosa, Miku Kawamura, Kerry Shea & Vincent Marra took a break from moving to watch a video of choreography Artistic Director Lynn Parkerson is referencing to create this new digitally-enhanced ballet.
New company member Gabriela Galvez Espana dances as Duane Gosa and Miku Kawamura look on
As the dancers learn some moves from the existing work in Brooklyn Ballet's repertory, Lynn has the luxury to focus less on the steps and more on the stylistic choices the dancers will make, as well as the spatial patterns that will ultimately become the work's scenery.
Lynn Parkerson demonstrates for the dancers
NYC Resistors, a Brooklyn-based hacking collective with a love of ballet, will set up a camera and work with the theatre to track the motion of our dancers. They'll create a scenic backdrop reflecting floor patterns of the ballet dancers and integrate them into the piece as a kind of technological visual art to enhance the choreography.
Lynn looks on at dancers Vincent Marra and Gabriela
All of us are intrigued by how this concept of charting and tracking the ballet dancers in space will become visual art on its own. While watching rehearsal, you can imagine the energy of the patterns. A scatterplot of dancers on the floor, slowly waking into movement before returning to low, crouched or seated positions. A duet that moves back and forth in a horizontal line upstage. Criss-crossed paths punctuated by large jumps. A central cluster of bodies characterized by calm, elegant motion, one dancer at a time.
How will that translate through technology?
Lynn directs Duane & Gabriela
But for now, in this stage of our preparation for our 2013 season, the focus lies on the technique and performance of the dancers. Lynn instructs Duane and Gabriela on their partnering, holding Gabriela's waist - "Really make sure she's secure here" - she directs.
DNA New York attended rehearsal last week and created a great video about our project. 
Read more from DNA info here.
Brooklyn Ballet Announces 2013 Performance Season: In 4D
Company Uses Digital Technology to Reveal Intricacies of Ballet Choreography
We're back in the studio!
Dancers are rehearsing five times a week for our upcoming season, and we couldn't be more excited about our shows next month. So thrilled, we want to share our process with you this year - continue to tune into our blog for tidbits from rehearsal, interviews with our dancers and collaborators, video, photos & more.
The curtain goes up on Brooklyn Ballet's 2013 season, In 4D, on February 28. The Company will perform three exciting works, two of which are new additions to our repertory. This year's concert includes a cutting edge collaboration with NYC Resistors - hackers, digital artists, and yes, balletomanes, based in Brooklyn. Artistic Director Lynn Parkerson is working with the Resistors on Tracing Back, a dance enhanced by the digital collection and display of spatial patterns in the work.
"Tracing Back reveals an aspect of choreography an audience does not usually see: the floor pathways of the dancers as they travel in real time," Lynn says. "I've been thinking about this idea for years and when I recently stumbled upon a world of techno/digital artists who are passionate about creating something new with ballet, it just fit."
Also new to our loyal audiences will be work-in-progress, Quilt, a new ballet/street dance mash-up created by Lynn and London-based choreographer Julia K. Gleich. The duet pairs the sinuously sweet Kerry Shea with our master of smooth, J-Floats. Based on Julia's mathmatically-inclined experiments with dancers at The Laban Institute (more on that later!), we're discovering new ways of initiating movement in ballet, pop-and-lock and more. It's sure to be a surprising and fresh way to create new connections in both of these distinct dance worlds.
You may remember our Stravinsky work-in-progress Spiders, Cooks and Mood Swings from last season… Well, it's back, and this time polished as a world premiere. This mixed movement mash-up connects 19th and 21st century aesthetics, updating the story-ballet village antics of classical ballet with a crew of contemporary characters.
"Spiders, Cooks and Moodswings" performed in 2012
Music lovers will be excited to hear that violinist Gil Morgenstern and pianist Julius Abrahams will return for our February-March dance performances. Gil will even join us on stage for Quilt, so you can look forward to watching him make magic with Bach and Barkauskas. Costume designers YMX by Yellowman and Patricia Forelle are back to make us look fabulous. And Mike "Supreme" Fields has his hand in helping shape the street dance portions of our mixed movement works.
We're just thrilled to be back in creation mode. And we hope you'll join us for more sneak peeks into the making of our 2013 performance season at The Actors Fund Arts Center. We love our Downtown Brooklyn space, and we're excited to open our doors to you!
CounterPointe Performance: A Great Success!
Norte Maar, in collaboration with Brooklyn Ballet, presented CounterPointe, a new performance series featuring emerging and established women choreographers making new work on pointe.
The series ran three nights at The Actors Fund Arts Center (160 Schermerhorn Street, Brooklyn, NY), Fri, Sept 28 + Sat, Sept 29 at 7:30pm and Sun, Sept 30 at 4pm. The evening featured new works by Lynn Parkerson, Julia K. Gleich, and Marie Renee Bennett with additional showings by Eve Chan, Emily Bufferd, Susan Jaffe, and Eryn Renee Young. 
With special appearences by the Brooklyn Ballet Youth Ensemble and a Q & A discussion with prominent dance scholar Claudia Jeschke. 
Brooklyn Ballet Students Participate ABT Summer Program
Six talented Brooklyn Ballet students were selected for American Ballet Theatre's Young Dancer Summer Workshop, which ran from July 30th to August 10th.
The participating students were Penelope Birnbaum, Bhajhan Williams, Zoreika Ollivierre, Chantel St. Fleur, Olivia Riess, and Rachel Tranter. The classes, which were held from 9:30am to 3:30pm Monday through Friday, focused on "building a solid foundation in ballet technique and educating younger dancers about related topics in the world of dance." On August 10th at ABT Studios in Manhattan, parents watched the students in a final show which included a ballet technique class, boys variation and choreography. 
We are very proud to see how Brooklyn Ballet students have grown with the program, made possible through our partnership with ABT. Bravo!
Live Music: Rehearsing with Gil Morgenstern/Reflection Series International
So Grateful for Live Music in Rehearsal and Performance
Tentatively titled "Spiders, Cooks and Mood Swings," Lynn Parkerson's newest work-in-progress will feature in Brooklyn Ballet's 10th anniversary season performances this month and next. Purchase tickets here.
Lynn Parkerson discussing the movement with Gil Morgenstern (violin) and Julius Abrahams (piano)
It was Gil Morgenstern, violinist and director of Reflection Series International, who first suggested including Stravinsky's "Suite Italienne" in Brooklyn Ballet's performances. The reduced form of the Stravinsky suite—just violin and piano—appealed to Lynn because it is open, transparent, penetrating. Movements of the suite will also be explored by frequent collaborator Mike "Supreme" Fields and his crew of street dancers.
Rehearsing and performing with live accompaniment by Gil on violin and Julius Abrahams on piano is a dream. The video below provides a quick listen:
Brooklyn Ballet In Rehearsal with Gil Morgernstern/Reflection Series International from Brooklyn Ballet on Vimeo.
This Week: Help us Fund the Season with Kickstarter & Join Us at the Brooklyn Museum
Brooklyn Ballet launches its first Kickstarter campaign to help fund our 10th Anniversary Season
We've been letting you in on a few details of our upcoming season, and we're very excited to keep spreading the news about our new ballets, special events and more.
Tickets are now on sale for our performances at both The Actors Fund Arts Center here in our home space at The Schermerhorn and our one-night-only run at Kumble Theater. More information to come about ways to party with the company during the season run!
Of course, all of these fantastic events and new works cost money. And in order to put on the best shows possible, we need your help. Take a look at our Kickstarter campaign, pass it around to fellow dance-lovers and donate what you can. Every little bit goes a long way!
FREE Performance at Brooklyn Museum this Saturday, March 3 at 6pm
After you donate, why not treat yourself to a FREE, family-friendly performance at Brooklyn Museum this Saturday, March 3?
Brooklyn Ballet will perform sections of dances from our upcoming season accompanied by live music by Gil Morgenstern and Reflection Series International starting at 6pm. Free tickets are available at the museum's Vistors Center starting at 5pm.
Hope to see you there!
Sneak Peek: Costume Illustrations by Patricia Forelle
Brooklyn Ballet has collaborated with Patricia Forelle since she designed costumes for Mystery Sonatas in 2005. (You can read more about our work with Patricia here.)
La Folia, photo by Julie Lemberger
Her breathtaking Baroque costumes (see above) for La Folia earned her a 2011 Bessie Award nomination for design, and we simply can't wait to see our dancers in costume for this year's Forest Fairies and Peasant Revolt.
A presentation of Michel Fokine's Les Sylphides alongside Isadora Duncan'sChopin Dances, Forest Fairies requires a few drastically different ideas in terms of costume design. So far, we're smitten with Patricia's watercolors of dress for the sylphs and Isadora figure. Can't wait to see the dancers move in these beautiful designs!
Watercolor of the Isadora figure by Patricia Forelle  
Watercolor of the sylphs by Patricia Forelle
Keep checking our blog for more glimpses into Brooklyn Ballet's 10th Anniversary Season, beginning March 29.
Rehearsal Photos: Brooklyn Ballet's 10th Anniversary Season
Stravinsky's Suite Italienne in Rehearsal
This season, Brooklyn Ballet will perform a new mixed movement work to Stravinsky's "Suite Italienne" from the ballet Pulcinella. Lynn is using video of past creations to Pergolesi's original orchestral score to inspire this year's choreography.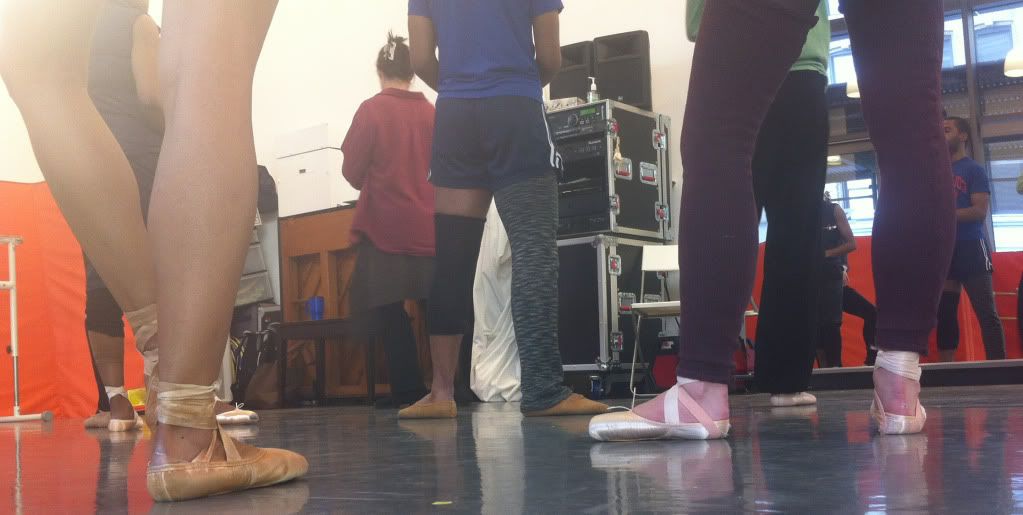 Brooklyn Ballet dancers crowd around a video of Lynn's past choreography.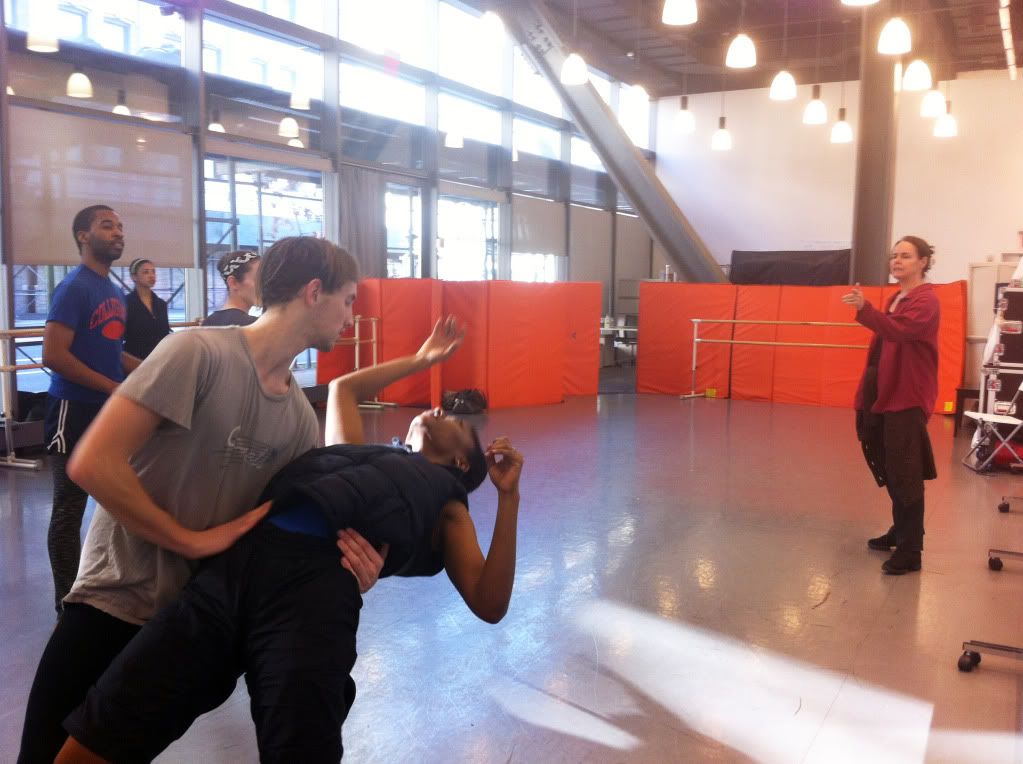 Lynn provides instruction about a duet in the piece.
Some of the ballet's later sections will include street dancers and African-based movement.
Keep checking our blog for more sneak peeks into Brooklyn Ballet's 10th Anniversary Season, beginning March 29. Tickets on sale soon.
Rehearsal Video: Stravinsky's Italian Suite
Beautiful dancing by Brooklyn Ballet's company members in rehearsal this week…even with the blooper at the end of this clip. We're not worried - our show is in March!
Join us for our 10th Anniversary Season:
Home Season Previews
March 29, 30 & 31 at 8pm
April 1 at 3pm
The Actors Fund Arts Center
Downtown Brooklyn
Revolutionaries and Romantics!
April 13 at 8pm 
Kumble Theater
Downtown Brooklyn
Tickets on sale soon!
Brooklyn Ballet Auditions Dancers for 2011-12 Performance Season
Brooklyn Ballet recently held auditions for our 10th Anniversary Season performances. We were looking for both male and female dancers with a range of technical ability - dancers who would feel comfortable not only in classic ballet roles but in collaborations with hip hop artists and movement in the Isadora Duncan style.
The 10th Anniversary Season will include a study of Isadora Duncan's influence on the structure and content of ballet, and Brooklyn Ballet is searching for the dancer who can embody Isadora Duncan's flowing style as well as turn heads while en pointe.
Thanks to all of the dancers who auditioned. We couldn't have asked for a more talented group of technicians and performers, and we can't wait to introduce you to this year's newest company members!
Check out more photos from auditions on our Facebook page.
Brooklyn Ballet Costume Designer Patricia Forelle Nominated For Bessie Award in NYC
NYC Costume Designer Patricia Forelle takes her place as one of the top costume designers for ballet
Brooklyn Ballet is celebrating its 10th anniversary season this year, and we're kicking off the season with an illuminating and entertaining lecture on ballet costume design by Patricia Forelle. Dressing For The Dance,the costume design lecture event, takes place Wednesday, October 19 at 7pm in the Actors Fund Arts Center, 160 Schermerhorn, Brooklyn NY 11201.
Brooklyn Ballet is also using this event to build support for its Costume Fund:
"For our 10th birthday, we aim to raise $10,000 for costume design for Brooklyn Ballet's 2012 Season, $10,000 for scholarships for Brooklyn's talented children and and $10,000 for community outreach to inspire Brooklyn's neediest communities with ballet. It's all about multiples of 10! 10 free performances, 10 outreach events in Brooklyn public schools, 10 new scholarship students and much more." Founding Board Member, Geri Armine-Klein.
Click here to buy your tickets and support the Costume Fund
Patricia Forelle is a longtime collaborator of Brooklyn Ballet. In fact, Artistic Director Lynn Parkerson met her at the start of Brooklyn Ballet in 2001 and asked the New York City costume designer to design for Mystery Sonatas in 2005. Last season, Patricia was behind the costume design of the Baroque-inspired ballet costumes in Lynn's La Folia.
Costume Design for La Folia
For La Folia, Patricia's intention was not to reconstruct period ballet costume designs but to convey the elegance of dress and sense of magnificence and opulence of the court during the 1700s. The costume design appears in sharp contrast to the unadorned modern professional dancer of today. It is for this work that the costume designer is nominated for a Bessie Award this year.
Patricia's Dressing For The Dance lecture evening will focus on the role of costume design within the political, social and economic life of France from Louis XIV to Louis XVI. She will share her knowledge of the subject as well as visuals of her own costume designs.
Please join us for a toast to Brooklyn Ballet's first 10 years. We can't think of a better way to start the season!
From Baroque to Hip Hop: First home season a success
Ballet's fate has recently become an issue of popular debate thanks to Jennifer Homans' Apollo's Angels: A History of Ballet (November 2010). The author's bold assertion that ballet is dying is a call to arms for choreographers like Lynn Parkerson, who has been ready and willing to answer for years. In line with this current preoccupation with ballet history and Homans' dire diagnosis, Lynn offered a curatorial nod to ballet's past conditions and current vivacity in March.
From Baroque to Hip Hop: Brooklyn Ballet 2011 Season from Lynn Parkerson on Vimeo.
Brooklyn Ballet celebrated its first home season, From Baroque to Hip Hop, with a timeline of dances ranging from 1700 to today, commemorating ballet's roots and defining moments as well as showcasing possible modes of progression. (Homans was the guest of honor at the opening gala performance, signing books and conversing with audience members.)
Roslyn Sulcas of The New York Times applauded Lynn's programming, drawing attention to its "notable reconstruction of 18th-century and 19th-century dances." A performance of Lynn and Thomas Baird's "La Folia," which sets Baroque style dance by Raoul Feuillet beside contemporary ballet by Lynn, highlighted the roots of balletic language and playfully demonstrated the stark differences between today's movement and its ancestral derivation.
Collaborating artists and dance scholars, Claudia Jeschke and Robert Atwood presented "The Justamant Suite," three short but intricate works choreographed by Henri Justamant, a French ballet master heretofore unknown among historians, whose work was uncovered at the Theatersammlung in Cologne, the Bibliotheque Opera de Paris and the Dance Collection of the New York Public Library. Before Brooklyn Ballet's performance last month, these works had not been presented in 150 years.
Thanks to the George Balanchine Trust, Brooklyn Ballet was also able to include Balanchine's "The Four Temperaments (Themes I-III)" in the season's concerts. This seminal 1946 work encouraged audiences to note the significant role Balanchine played in shaping contemporary performance.
Last, and most current, Lynn presented the world premiere of "Close to You," which was shown as a work-in-progress at last spring's First Look series at The Schermerhorn. The intertwining of street dance and ballet contemporizes the genre and validates its position in the present landscape of contemporary art, with its penchant for defying classification by entertaining diverse influences.
First Look Sparks Creativity, Discussion and More
This year Brooklyn Ballet Company rehearsed in the new studio in Downtown Brooklyn, unveiled the new performance space at The Schermerhorn and premiered four sections of a work-in-progress. Talk about progress and productivity!
After a nearly two-year-long hiatus, Lynn recruited dancers and returned to the studio to continue her exploration of ballet's relationship to other dance forms, artistic mediums and broader cultural questions. Building off of a duet between Kerry Shea and Mike "Supreme" Fields, she expanded her cast and extended the work by observing improvisational exercises and playing with classical pas de deux.
Close to You was shown as a work-in-progress during the First Look performance series in the new multi-purpose performance space at The Schermerhorn in May 2010. Lynn presented and pondered during three Saturday evening concerts. The dance is set to music by Burt Bacharach, Bjork, The Kinks, Tsutchie and Kunst Oder Unfall (Art or Accident).
In one section, street dancers and ballerinas stand back to back, sharing and reacting to their partners' weight and shifts in position. Another section sets classical pas de deux to "All Day and All of the Night" by The Kinks.
"I heard it on the radio one morning before rehearsal and there was something about connecting pas de deux work and this misogynistic rock era that struck me, and I love the song" Lynn said. "I was creating these neoclassical duets, and I wanted to inject energy into the pas de deux work because it's very controlled. When I see contemporary ballet and there's all this manipulation of the woman's body—it doesn't work for me, it seems dead. But it worked if I had this music going. It made sense to me. Something about the song can push you to the extremes in a way that's exciting and energetic. I think I'll call this section Mutual Consent."
Like many of her other projects, Lynn used performance as part of the process, learning more about the character, tone and meaning of the dance during its debut.
"Certain ideas would emerge in the performance and since we would have one or two rehearsals in between shows, I would make a change," she said. "I added little motifs to connect the pieces, and I thought about starting with the last section and doing it in reverse. I didn't get any definitive answers by the last performance except that I'm not sure it has to fit together so neatly. Maybe it's kind of a collage of experiments."
Opening the new performance space at The Schermerhorn was also a learning process. Lynn was grateful to have feedback from her audience after each show, not just about the choreography but about how it affects viewers differently in a more intimate setting. Many of First Look's audience members enjoyed hearing the dancers' breath and seeing the effort behind the activity on stage.
With a permanent rehearsal studio and an eagerness to focus more intensely on choreography, Lynn is thrilled to fully revive Brooklyn Ballet Company. She'll continue to extend and shape Close to You, and a new piece will soon be in the works for Carnegie Hall's 120th Anniversary Festival at LIU Kumble Theater in 2012.
"The festival's theme is the gilded and silver ages between 1891 and 1917, starting the year Carnegie was built and putting it into the context of today," Lynn said. "Back then you had Isadora Duncan and the Nutcracker… I want to bring something to this performance that bridges then and now, provides historical information and somehow makes connections that maybe haven't been made in the performance arena.
"Again, it's about making connections. I don't want to use the word 'educate' – it sounds dull in the theatrical context. I believe performance should be transcendent. Having a historical theme narrows your focus a bit and lets you explore very particular things. Not only do I want to make these connections for my audience, but I want my dancers to experience something they haven't yet. I want to give them the tools to expand their own expressiveness and performing abilities.
"It's about bridging, synthesizing, mothering and transcending."
Stay tuned for more on the Company's work with Lynn.
Kerry Shea: She's never danced like this before
Kerry Shea was sitting in a deli during Brooklyn Ballet's auditions. A friend who was auditioning gave her a call and told her to hurry down to the borough to tryout for the Company – "You'd love it!" the friend declared.
And love it she does. Grateful she ditched her sandwich and booked it to Brooklyn, Kerry doesn't think she'd have the opportunity to do the kind of dancing she experiences with Lynn in any other company.
Lynn's latest duet features Kerry and pop and lock artist Mike Fields. It's a challenging but exhilarating blend of ballet and street dance – and excavation of connections between the two distinct genres of movement.
Kerry comes from a strict technical background so it's no wonder she's enthusiastic about the freedom she finds in rehearsals with Lynn. She grew up in Rochester, NY, studying with the Rochester City Ballet while in high school. Upon graduation, she attended the University of Utah on scholarship and developed a professional relationship with the director of Aspen/Santa Fe Ballet. After spending some time dancing in Aspen after college, Kerry relocated to work with the Sacramento Ballet, and finally, journeyed to New York City to find more to add to her already impressive resume.
She never imagined she'd be improvising and working alongside pop and lock artists. This current project has provided more chances for choice and inventiveness than previous works in her personal repertory.
"A lot of times in ballet, everything is very exact," Kerry says. "The counts have to be right on and the arms and positions have to be just so. You have to train your body and mind to work like that. It's really fun to explore what can happen when things aren't exact. It gives me so much more freedom. I'm really enjoying the process because of that."
But with freedom comes responsibility –
"For me, at first, this was kind of scary," she says. "I would think: 'Is this dumb? What am I doing?' and I was self-conscious. Then I realized that even accidents can turn into something usable. There's nothing that is wrong. Lynn has a general idea but within that who knows what will occur with the arms, the musicality, etc."
Despite her initial timidity in the rehearsal studio, Kerry has demonstrated ample courage performing the work-in-progress in a variety of stages of completion at several public events. Kerry and Mike performed for a small group of performers and improvisers at a Mixed Movement at The Schermerhorn and for a multitude of community leaders, including Mayor Bloomberg, at the Brooklyn State of the Borough address at Park Slope Armory.
"What's cool about this piece is that it appeals to so many different audiences," she says. "It doesn't belong in just one spot."
Pages